Blog
Enabling The Power of IoT-Based Asset Monitoring Solutions for Transportation Businesses
Enabling The Power of IoT-Based Asset Monitoring Solutions for Transportation Businesses
Introduction: IoT technology helping businesses by providing asset monitoring
IoT is extremely helpful in terms of asset management for businesses. Some of the exclusive benefits of IoT Asset Management are listed below:
1. Asset Optimization:
Every organization possesses an asset tracking plan to have a clear picture of the asset in terms of its running condition and revenue generation. IoT-enabled asset management provides the capability to check if the asset performance is in line with the expectations, with the help of IoT sensors.
2. Real-Time Information:
You can easily obtain real-time information regarding future events and planning through IoT. For instance, IoT-based smart farming is one of the rapidly growing sectors. IoT enables farmers to control water utilization for plant growth, detect soil moisture and nutrients, and offer actionable insights to improve yields and hence increased ROI.
3. Improved Monitoring and Maintenance:
An enterprise can monitor its machines, assets, and equipment in real-time using IoT technology. IoT sensors can alert plant managers in case the operating parameters of assets are not in the permissible range.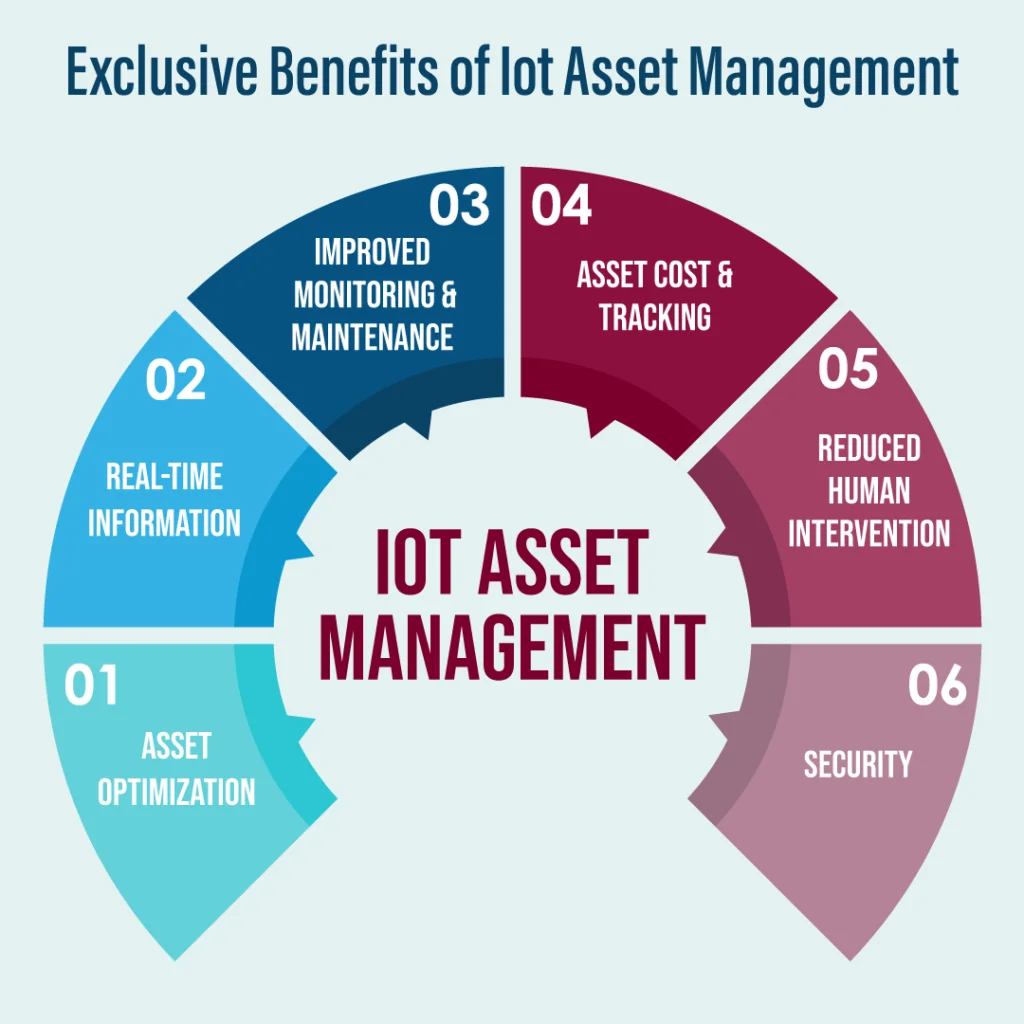 4. Asset Cost and Tracking:
The productivity and growth of the organization rely on a very important aspect known as asset tracking. IoT-empowered assets furnish information emerging from the root cause of any real-time problem. It makes sure that breakdown costs are saved, issues are resolved and smart financial decisions are taken on time.
5. Reduced Human Intervention:
There is no human effort required when enterprises make use of IoT-enabled sensors for asset management. There is a different kind of sensor responsible for measuring temperature, pressure, humidity, acceleration, proximity, and many more.
6. Security:
IoT-based asset trackers are now coming up with full-fledged security features. The trackers use bank-level data encryption and authentication mechanisms to ensure the data is kept secured and private.
Three Major Industries Demand Asset Monitoring Solutions
It has become a necessity for enterprises to adopt automated remote asset monitoring features. This helps businesses to gain proper deep insights about their assets, asset health, productivity, availability, and location accessible from a single point. Smart asset monitoring is helping enterprises from three major industries, namely, manufacturing, power and utilities, and healthcare sectors to get the most out of their assets.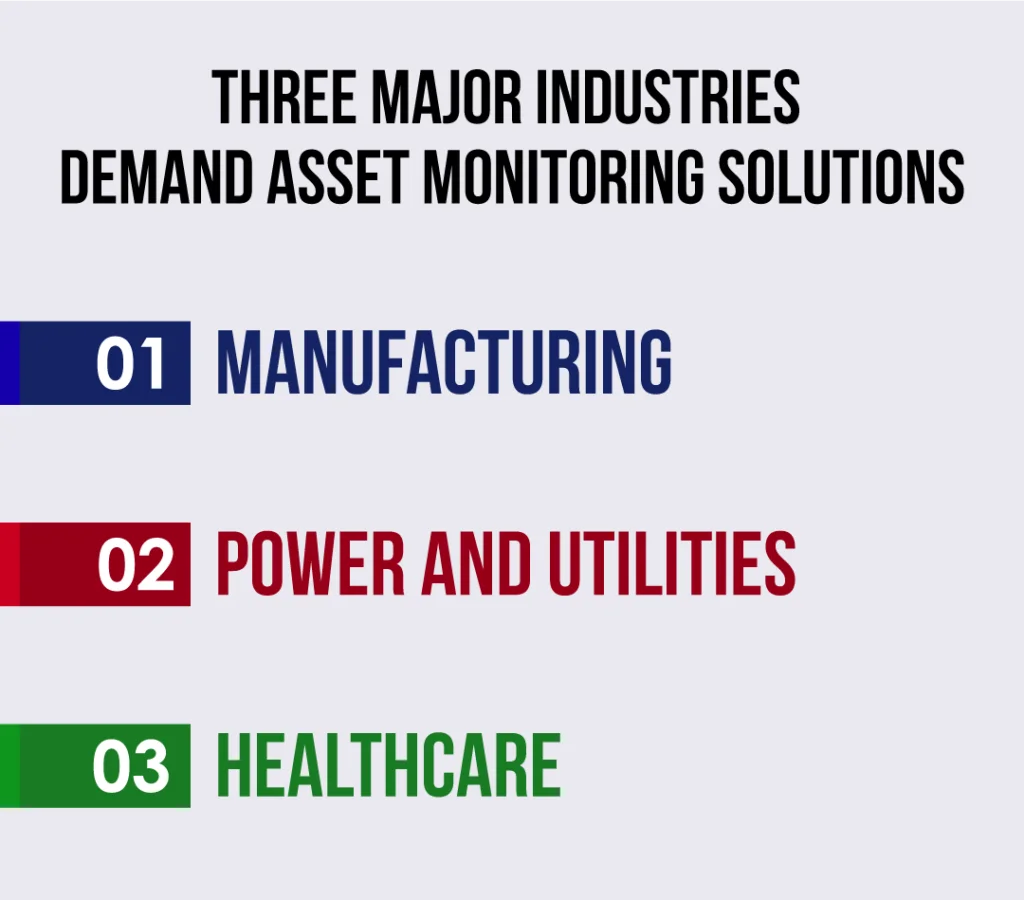 1) Manufacturing
Manufacturing is recognized as the most asset-intensive industry where there is an urgent need of tracking and monitoring assets along the entire supply chain. The manufacturing industry also faces challenges to monitoring multiple plant locations due to a lack of remote asset monitoring solution. Asset tracking and monitoring solutions allow enterprises to monitor and track all the connected assets that are used for the manufacturing processes. An asset tracking solution enables tracking the moveable assets that are used in the production line. IoT solutions allow the users to get the exact location of assets as well as provide information about other parameters associated with asset health and efficiency.
2) Power and Utilities
The lack of required efficiency and strategized processes in the power and utility sector results in higher costs due to manual asset monitoring and inaccurate inventory management. A smart asset monitoring solution that includes asset tracking, operation management, inventory management, and many more, can assist businesses by bridging the gap between operation processes with the adoption of industry best practices. IoT-powered asset monitoring solutions help companies detect abnormal machine behavior, anomalies and predict equipment failure to decrease the cost of machine repair or replacement.
3) Healthcare:
According to a recent study, nearly 10 to 20% of the hospital's inventory is misplaced or goes missing every year. Some hospitals are unable to spare an amount up to millions for the missing assets. Asset monitoring solution assists hospitals with providing insights into several active assets. Businesses can track moveable assets easily regardless of the area where they are located. Healthcare processes use a wide variety of different equipment and monitoring devices. If any of the assets are lost or unavailable, this situation can severely hamper patient care and medical procedures.
Methods That are Used to Perform Asset Condition Monitoring
Condition Monitoring is used to keep tabs on an asset state using certain performance indicators. This type of monitoring is non-invasive where data is collected either continuously through sensors or at certain intervals. Some of the techniques used to perform asset condition monitoring are briefed as follows:
I. Ultrasonic Analysis
Ultrasonic Equipment detects deep, subsurface defects by measuring inaudible sounds and converting them to an audible pitch. Anomaly detection and rectification becomes easy once, the sounds are audible through the human ear.
II. Pressure Analysis
Many industries require maintaining the right pressure within the equipment for the production process. If the pressure drops in a piece of equipment, it calls for an internal problem requiring maintenance. On the other hand, a pressure hike can indicate a sign of breakage or an explosion.
III. Vibration Analysis
Vibration Analysis recognizes potential failure by observing changes in normal vibration signature. Amplitude, frequency, and intensity affect vibration, so sensors can observe abnormalities in these elements indicating a sign of some problem. Sensors can spot when the vibration becomes excessive and the particular component can be replaced or repaired.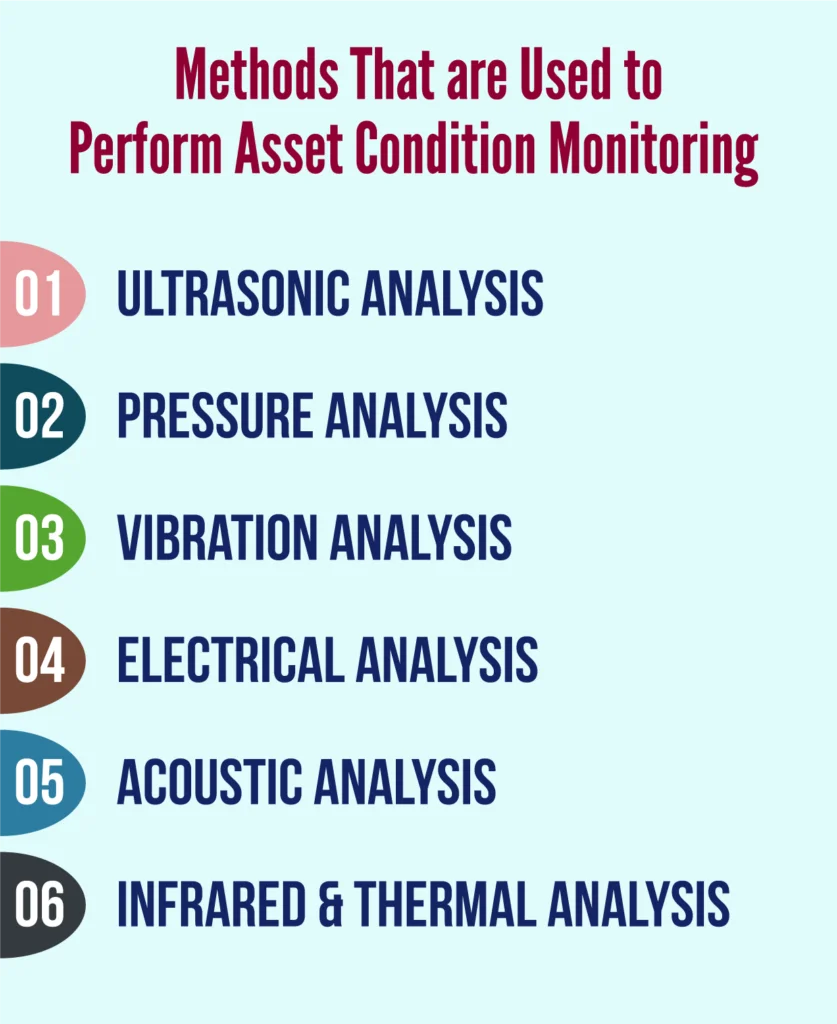 IV. Electrical Analysis
An electrical current that is too strong or too weak can cause abnormalities in an asset. Clamp-on ammeters are used in the electrical analysis to measure the current in a circuit. It becomes simple for the maintenance teams to gauge when an abnormal amount of electricity is supplied to the machine.
V. Acoustic Analysis
Acoustic Analysis resembles almost similar to ultrasonic and vibration analysis. It uses microphones and sensors to detect sound indicating that an asset is not operating right. Acoustic Analysis uncovers deficiencies in rotating equipment as well as can target liquid, gas, or a vacuum leak.
VI. Infrared and Thermal Analysis
When some parts of the system exceed the threshold value of the temperatures, it can cause them to deteriorate, break or burn out. Infrared Cameras and Thermal Sensors are used to assess when an equipment part has become too hot and alerts the maintenance team to fix the issue.
5 Benefits of Using Asset Monitoring Solutions
Asset Tracking Software offers tons of benefits to an organization which is briefed below:
Reduced maintenance expenses
Extended life of assets
Scheduling and tracking asset maintenance
Enabled Asset Recovery and GPS positioning
Streamlining audit and daily operations
Also Read: 5 Reasons Why Smart Cities Are Employing Wastewater Management

Previous Blog
Conclusion
As per some asset management experts, the demand for asset tracking IoT devices is said to grow three times by 2022. The Agriculture, Manufacturing, Transportation, and Hotels like sectors will benefit most from this technology. Asset Tracking serves a major general objective of saving your business time and cash. It helps in increasing the productivity of equipment and organization. It also allows us to monitor the assets in real-time. Asset Management Software provides almost all the details of the assets such as their exact location, their condition, and many more.
FAQs
IoT provides improved communication, data distribution, and control at every layer of transportation. It extends throughout the entire system of transportation elements like parking, traffic control, fuel consumption, and more.
IoT allows healthcare professionals to be more watchful and reach out to patients more proactively. Sensor-enabled IoT devices are used for tracking the real-time location of medical equipment like nebulizers, wheelchairs, monitoring equipment, and many more.