Blog
Nextcloud: An alternative to Dropbox & Google Drive
Nextcloud: An alternative to Dropbox & Google Drive
Cloud storage is becoming popular day by day and the importance of storing the files online is getting increased every day. The main reason behind this is the flexibility that they offer. You can access the cloud from anywhere in the world and from any device, be it a computer or mobile. One of its use is to keep an offsite backup of data. This feature is enough to convince any enterprise to shift to the cloud. But, the major drawback of cloud storage is that it is proprietary and is controlled by major corporations.
In turn, those corporations control everything you backup on their cloud. For example, when you upload anything on Google Photos, then Google identifies everyone and everything around you. While some of us consider this as a good feature, some may not like this.
Now, there are some options available where you can store your files without someone peeping into your privacy. This software is open-source software. Now you all might be wondering that what Open Source means.
What is Open Source Software?
Open Source means that the source code is open to all. In Open source software, anyone can access, check and modify the source code to enhance it. In closed source or proprietary software, the source code is handled only by the person or company who made it. New features are added or the fixing of the issues is done by the programmers in open-source software. In proprietary software, the maintenance of the software is done by the company itself.
Why does Dropbox /Google Drive need to be replaced?
Dropbox is a go-to software service for storing information. Still, it's not good for enterprises. There are certain drawbacks. You cannot share a password-protected link on Dropbox. You will not be able to control who can see your file. Dropbox has limited encryption, so if you upload confidential files, your data might be at risk. Also, the IT admin cannot access the audit log. IT admin cannot see who has accessed our file. Nor the data can be deleted remotely. So, if your device gets stolen, IT cannot wipe the Dropbox data.
Nowadays, there are many alternatives available to Dropbox-like Nextcloud and Syncthing, etc. The current trend acknowledges us that Owncloud and Nextcloud are dominating the market. While Nextcloud is an independent spinoff of Owncloud, Owncloud was found to give Dropbox a tough time.
Related: What Differentiates Nextcloud From Its Competitors?
What is Nextcloud?
Nextcloud is an open-source, self-hosted storage system. You can download it for free. The Nextcloud server software can be installed for free on Linux, and the client software can be installed on computers running Windows, OS X, or Linux. Mobile apps are available for Android and iOS.
Nextcloud: An alternative to Dropbox & Google Drive
Nextcloud is the best alternative to proprietary software like Dropbox, Google Drive. It was founded in 2016 by Frank Karlitschek (founder of Owncloud) who forked Owncloud to start Nextcloud. Many original Owncloud developers also helped Karlitschek to create Nextcloud. Most of the features of Nextcloud are similar because of this reason. Even the interface is not having much difference.
You guys might be thinking that" Google and Dropbox are already offering the free storage space". But you all might not know that they have certain limitations. They don't offer free space after a certain limit. And after certain usage, the customers have to pay for it. Neither the security provided can be trusted. Google Drive and Dropbox aren't as secure when compared to Nextcloud.
Nextcloud Vs Google Drive Vs Dropbox
Nextcloud is the most popular self-hosted EFSS and content collaboration platform in 2020. It is an incredible platform for organizations that are looking forward to best security, easiest use, and vast ecosystem. Using Nextcloud the organization can enhance the workflow capabilities. In fact, recovering files after any ransomware attacks are easy and simple using Nextcloud because of it is robust online and offline solutions.
Wondering Why Nextcloud is a more prominent option than Google Drive and Dropbox? Here's what we can share via an infographic.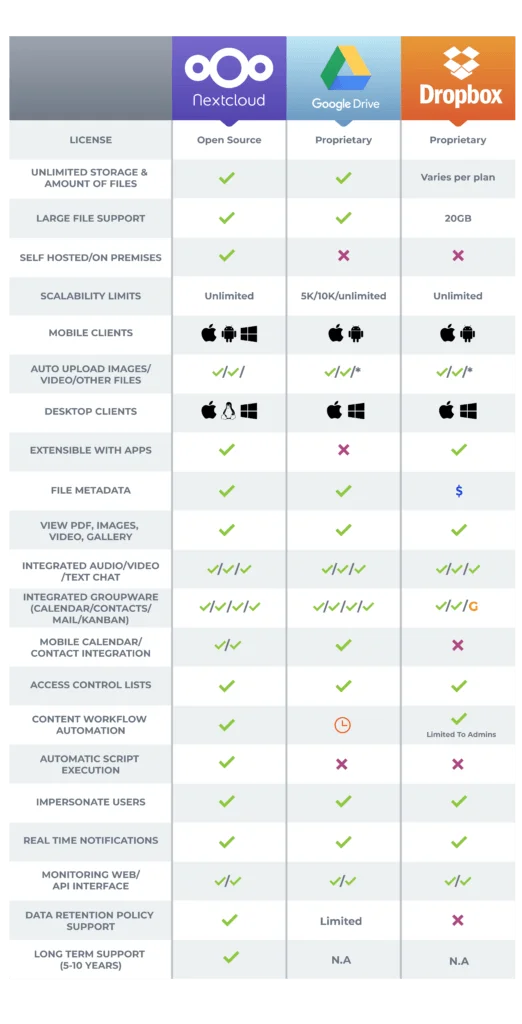 Top 7 Features of Nextcloud
While we advise our clients to choose Nextcloud over Google Drive and Dropbox, here are the top 7 features on why you should be using it. The features are listed based on our experience.
1: Google Docs Compatability
Nextcloud offers a full Google Docs capability and tools like Outlook, SharePoint, Mozilla Thunderbird and most importantly, Collabora. Nextcloud doesn't only offer a storage container; it also provides many other features.
2: A Complete Suite
Nextcloud isn't just simple client-server cloud software where you can sign in and get your storage. It is indeed a suite that offers various services based on the Nextcloud Platform. Nextcloud files allow users to sync documents between users and other members from mobile devices and computers. And as it offers self-hosted solutions, it is up to you that how much space you are allowing Nextcloud to access.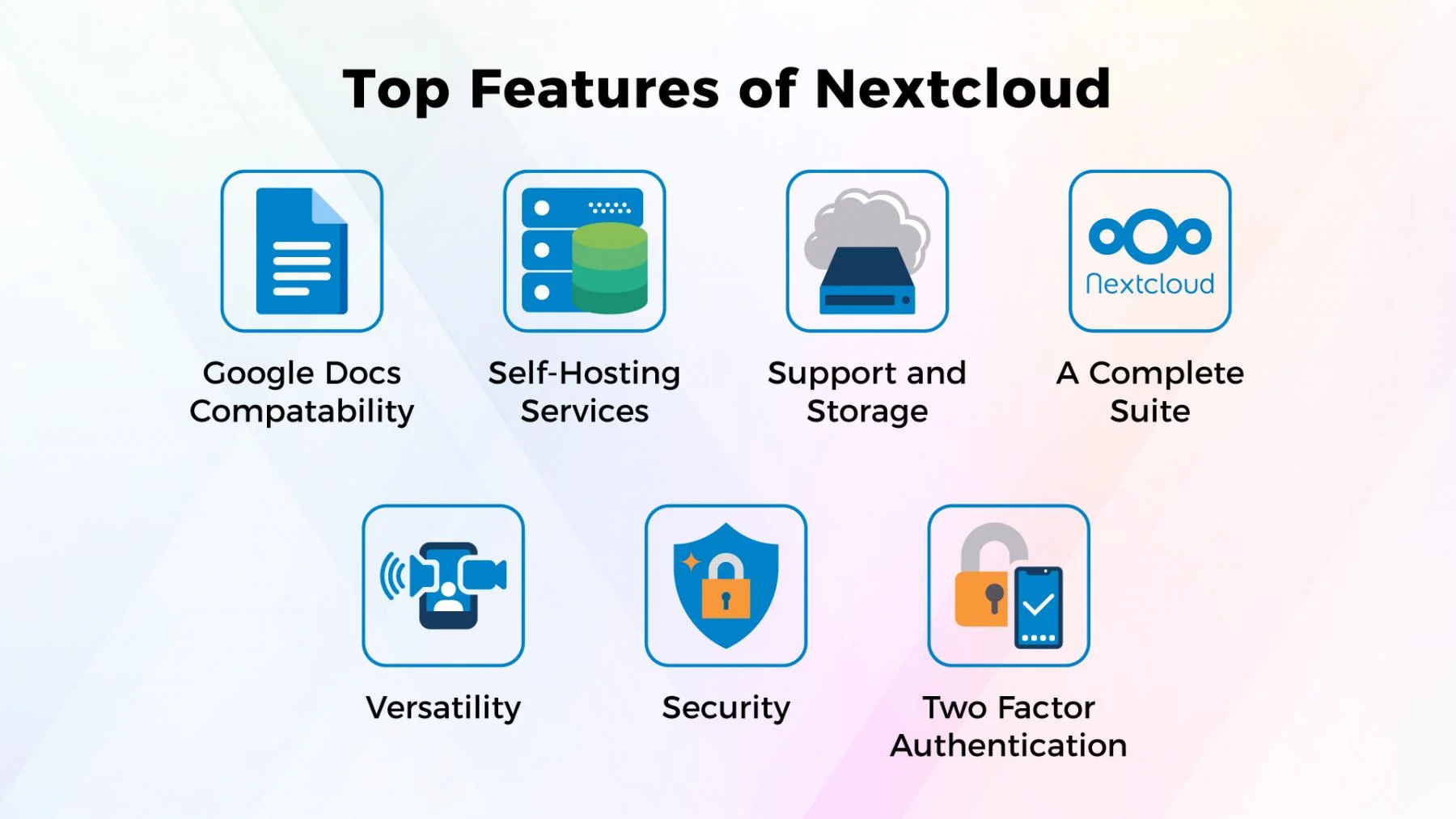 3: Self-Hosting Services
Nextcloud offers self-hosting services with the help of which you can create your private server and customize it according to it. With its entry only, Nextcloud is leading in the market and is boasting of having a developer team of more than 1000 persons.
4: Security
Nextcloud servers can share single files or whole folders with the help of a link with or without the password. Also, the Nextcloud server prevents single apps from sharing data on the cloud and also offers other apps to share in a protected group of users.
5: Versatility
Nextcloud Talk app allows you to make audio or video calls, chat with other users and share your screen without installing any other app (Of course, a browser app is required). The chats and calls which occur between the users are having an end to end encryption. There isn't any central organization that is logging into everything you share and also they do not have any embedded advertisements. You will get instant notifications whenever someone wants to talk to you. The notification will also pop up when someone comments on the file we have shared.
6: Support and Storage
Nextcloud offers large file support and unlimited storage. Nextcloud has its own app store having 120 listed apps in it. It also has audio and video player in it. We can sync contacts and calendar with the Nextcloud and also it offers weather reports.
7: Two Factor Authentication
It offers security by two-factor authentication, brute force protection, CSP and Rate Limiting. Brute Force Protection protects the Nextcloud servers by preventing the various attempts to guess user passwords. Rate Limiting is used to limit the data any user can access at a particular time. This will prevent the access of too much data in a small-time, hardening of Bruteforce and expensive API calls. Content Security Policy (CSP) is an added layer of security that helps to detect and prevent certain types of attacks, like data injection, data theft, and malware attacks.
Takeaway
With SNDK Corp and NextCloud, organizations can – control, monitor, and protect data and communication across the company. Share and collaborate on documents, manage your calendar, have video chats, and send and receive emails without data leaks. Using NextCloud, experience a completely integrated on-premises content collaboration platform and expect seamless online collaboration capabilities out of the box without any compliance and security risks.