Microsoft Azure Cloud Computing Services
Microsoft Azure Cloud Computing Services
We specialize in Advisory of cost-effective approaches to network architecture, integration, optimization, security compliance, and operations. We are professionals in planning, implementation, configuration, and maintenance of Network & Security Solutions.
SNDK Corp provides Microsoft Azure cloud computing services that offer rapid deployments at the forefront of Azure IaaS Services and Azure PaaS Services. Azure offers strong Hybrid Cloud capability, free extended security updates, and your preferred languages, frameworks, and infrastructure. Enhance your business in an Agile Way, build on your terms, deploy where you want to, and be future-ready.
With Microsoft Azure Cloud Computing Services, get security from the ground up, supported by a team of experts and proactive compliance trusted by enterprises. Manage and integrate your environments with services and tools designed for the hybrid cloud. Using Azure expands beyond the limits of your existing computing platform with the freedom to build, manage, and deploy your products anywhere. Use your preferred frameworks, infrastructure, language, and even your datacenter with the cloud. Power your digital transformation, collect untapped data, and find new insights by connecting your assets and devices.
With aid from Azure Cloud Computing Services, you have everything you need to construct your next great product. You have choices. With a commitment to open source and support, build how you want to and deploy where you want to. Turn your ideas into innovation with Azure. Continuous innovation from SNDK Corp will support your development and your product visions for tomorrow.
Azure Cloud Services at SNDK Corp
Business productivity stands crucial for any organization. For the same, we at SNDK Corp provide highly productive network environment with Microsoft Azure Services. Our Azure cloud experts are apt at assessing, executing, and delivering the best solutions for enhancing business productivity and efficiency.
At SNDK Corp, we offer novel cloud-based solutions to startups, enterprises and MSMEs. Our organization, centric Microsoft Azure Services, are quite flexible to adapt and execute. For the below reasons, organizations must choose Azure cloud consulting services.
Flexible pricing model
Third-party integration support
Scalability and speed optimization
Close integration with Microsoft tools
100% Cloud Integrated Environment
DevOps Support
Robust dashboard support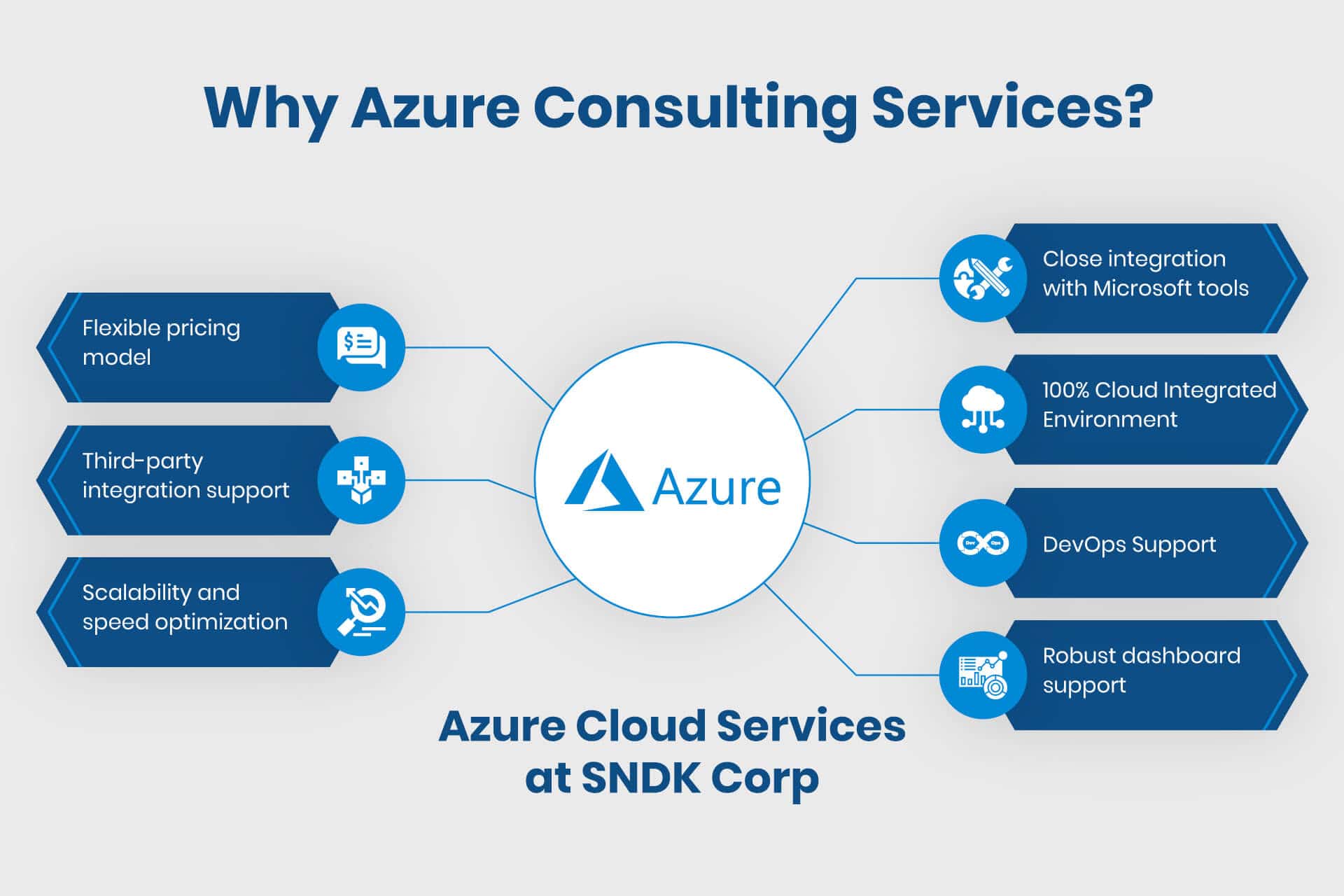 Why SNDK Corp for Microsoft Azure Cloud Computing Services?
1. Skills
Having worked on various Azure services and consulting service providers, we hold our expertise in providing the best Microsoft Azure solutions for our clients.
2. Azure Migration & Upgrade
Our expert cloud team can help you with Azure migration and upgrade services without having you experience any downtime or disruptions.
3. Cloud Infrastructure
Customization plays a vital role in the success of any organization. We help your business with customizing and upgrade to legacy infrastructure to Azure Cloud Infrastructure.
4. Microsoft Azure Experts
SNDK Corp has recruited the top cloud consulting developers for your organization's dedicated and substantial projects, making process both easy and swift.
Trusted By