Blog
Amazon AppStream 2.0 – All You Need To Know
Amazon AppStream 2.0 – All You Need To Know
In today's businesses, remote access to various software and services has become a crucial aspect. Enterprises are looking for services that provide their desktop access from anywhere.  AWS has come up with Amazon AppStream 2.0. It is a one-stop solution for streaming desktop applications securely to a browser. We at SNDK Corp will aid your business avail the maximum benefits of AWS.
What is Amazon AppStream 2.0?
It is an application streaming service that allows you to stream your applications through AWS to any device. Do you want to stream into your computer, Chromebook, PC, and Mac? Indeed, it is possible through Amazon AppStream 2.0. All you need to have is the device running an HTML5 compatible browser. It is fully managed by Amazon and doesn't require setting any streaming services using SDK. Therefore, each user receives fluid and responsive experience with your applications.
Top 6 Features of Amazon AppStream 2.0
Amazon AppStream comes with excellent features as per SNDK Corp. Refer below to know its features.
1: Stream on any device
As mentioned above, AppStream 2.0 helps you to stream on any device of your choice. The application can also be streamed through the AppStream 2.0 client (only for supported versions of Windows).
2: Secure your applications and data
The term "security" is of much more concern in today's era of technology. You cannot compromise on the security of your enterprise at any cost. So, no worries if you are using AppStream 2.0. Your application streams as encrypted pixels and access data secured within your specified network. Each user has an AppStream 2.0 instance that restricts the sharing of computing resources. In addition to this, the applications and data are not stored on the users' devices.
3: Fluid and responsive user experience
AppStream 2.0 runs on AWS and is unavailable on your local devices. This makes the application run with great performance. The applications run on virtual machines suitable for their use cases. The NICE-DCV protocol adjusts to users' network conditions enabling a fluid user experience.
4: Scale without infrastructure
Like many other AWS products, AppStream 2.0 is also available with pay-as-you-go pricing. You can allow your application streaming to any number of users across the globe. You don't have to worry about setting up the infrastructure.
5: Centrally manage applications
You can manage your AppStream 2.0 at a common level. It reduces the increased workload to manage installations and updates on each users' computer. Each user utilizes the same version of your applications.
6: Integrate with your IT
Using extensive APIs, you can integrate AppStream 2.0 with your custom IT solutions. It connects to your Active Directory, cloud storage, network, and file shares. Applications can be accessed by users with the help of their existing credentials.
Aren't these features amazing? With SNDK Corp make your business bloom by migrating to AWS.
How does it work?
Here is an illustration to help you understand how Amazon AppStream 2.0 actually works. Please spare a minute to analyse the image's process.

Use Cases
1: 3D design and engineering
AppStream 2.0 allows users to work without workstations. Therefore, reducing the management cost of your workstations. GPU intensive applications can be accessed by the user at any time. It helps you perform visualization work directly on AWS. Users will no longer require downloading sensitive data on each workstation they use.
2: Software vendors:
AppStream 2.0 accelerates your application adoption by shortening your sales cycle. This is done by trials and demos of your applications to a browser on any device. This will help customers to get started with your apps without any installations.
AppStream 2.0 provides a reliable foundation to develop a SaaS solution. You can manage users, access, and data with the built-in features provided.
You will not need to rewrite the application with AppStream 2.0. You just have to install the applications and your customers will be able to access the same version.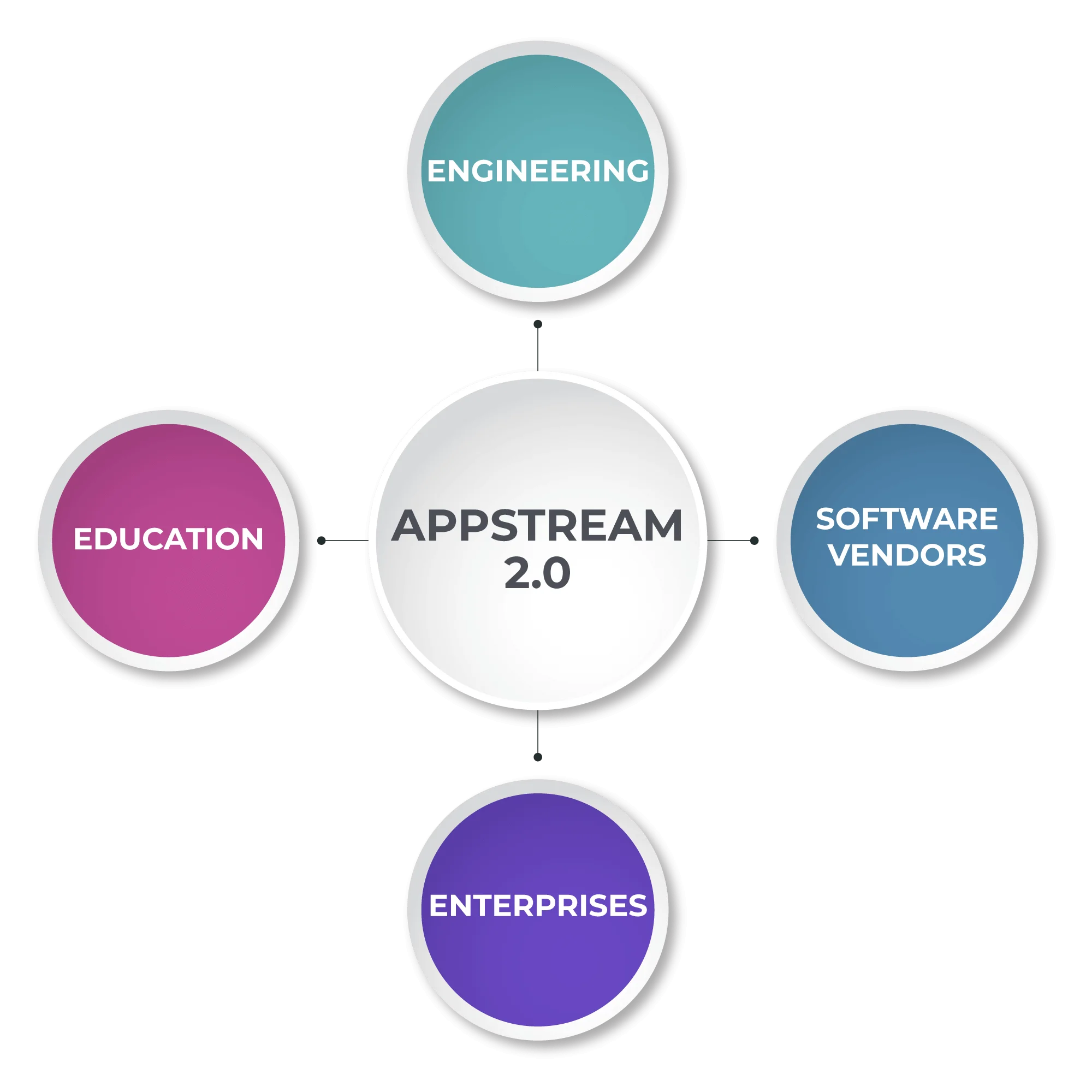 3: Enterprises:
AppStream 2.0 relocates your users' application to the cloud. Therefore, you will no longer have to operate on-premises infrastructure and manage computers for each user. With SNDK Corp you can get complete cloud maintenance services.
By using AppStream 2.0 you don't acquire provision, operate Windows servers, databases, or streaming gateways. You will not have any upfront costs.
4: Education:
Students can access the class wherever and whenever they want it. They can get easy access to the computer labs on their device.
AppStream 2.0 promotes distance learning, your classes are not limited to few students on the campus. Any student across the world can access your classes.
It will drastically reduce your costs on IT spending. You won't have to purchase computers for your students for using them for a few hours.
Also Read, Amazon Interactive Video Service (IVS): The Next Big Thing
Conclusion
After reading the above information, we hope you became aware of the exceptional features of AppStream 2.0. From reducing costs of your enterprise to providing fluid user experience, AppStream 2.0 has got it all. Get into the AWS realm and transform your business like never before. With SNDK Corp you get the most out of the AWS products to take your enterprise to the next level.